LabNet manager software suite
LabNet Manager LIS / LIMS / Middleware Software is the first keystone in a coming-up LabNet Manager System Software family will be consisting of: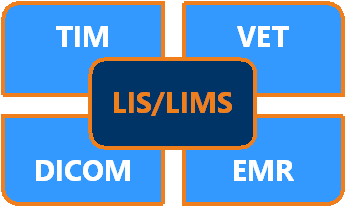 LabNet Manager Software Family members

TIM - Total Invoice Management
VET - Veterinarian Version
DICOM - Digital Imaging & COMmunication
EMR - Electronic medical record
*LIS / LIMS / MW - Laboratory Information System / Laboratory Information Management System / Middleware

*LabNet Manager LIS/LIMS/MW

Our software was re-designed of an over years existing software base for easy usage at customer's side and cost efficient for small laboratories up to big entities.

This new LabNet Manager Software family is designed for your market:
- cost efficient
- reliable
- fully scalable for the future
- less service and maintenance
- pre-installed and configured
- hardware included
TIM = Total Invoice Management could be included. It is a very strong module for direct5 billing to patients are as an interface to reimbursement systems.
It is a Laboratory Information Management System (LIMS) configurable for customer needs as stand-alone software in a laboratory with / without connectivity to an existing Hospital Information System or other "higher" system.

Or as middleware for order and result interfacing / communicating of analyzers to an existing LIS, LIMS, HIS.

We can configure all needs or interest of customers because it was develop from perspective of customers for customers.

You can buy it e.g. installed for customer needs at a Hewlett Packard ProLiant Micro Server.
Until now we have a huge list of existing analyzer interfaces (and tested) for connecting analyzer in the market.

Unknown interfaces will be integrated in 5 working days after sent interface specifications.

Modules for:

- Patient demographics entry
- Patient order entry
- Patient history
- Test order entry
- Automatic test results from analyzers by given interfaces
- Barcode printing and Sample splitting
- Manual Test result entry
- Patient reports
- Email reporting system
- Patient search with different criteria
- Report designer
- Worklists management etc.
- Technical result validation
- Quality Control data for tests, analyzers
- Image & Scan import/export to orders
- Schedule for Lab tasks or patients
- Configuration tools
- Error logging
- Trace logging